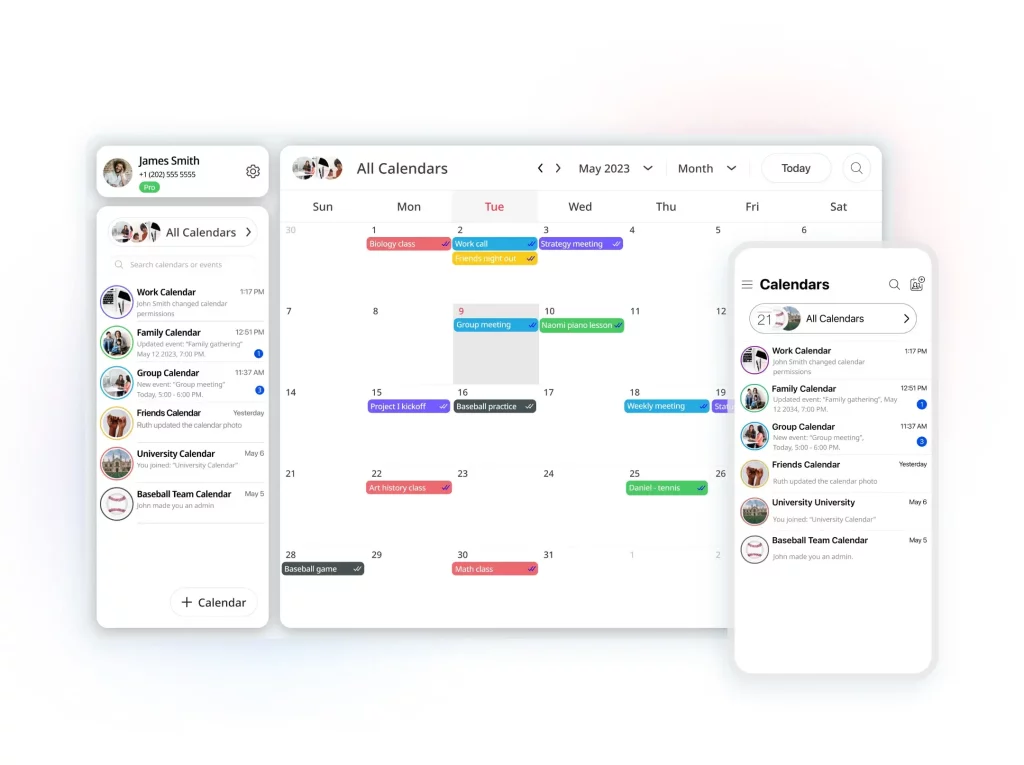 We are thrilled to unveil our latest innovation – GroupCal, a revolutionary shared calendar platform that is set to transform the way you manage your schedules and coordinate with others. In this article, we introduce you to GroupCal, a cutting-edge platform designed to streamline collaboration and organization, bringing a whole new level of efficiency to your calendar management. Join us on this exciting journey as we dive into the features and benefits of GroupCal and how it can revolutionize the way you schedule and connect with others.
What is GroupCal?
GroupCal is not just another calendar app; it's a game-changer in the world of scheduling. With GroupCal, you can create or connect to multiple shared calendars, each focused on a specific topic such as class schedules, family events, work tasks, or any group with shared interests. The platform serves as a centralized hub for all your shared calendars, providing real-time synchronization of events across all members, eliminating the need for manual updates.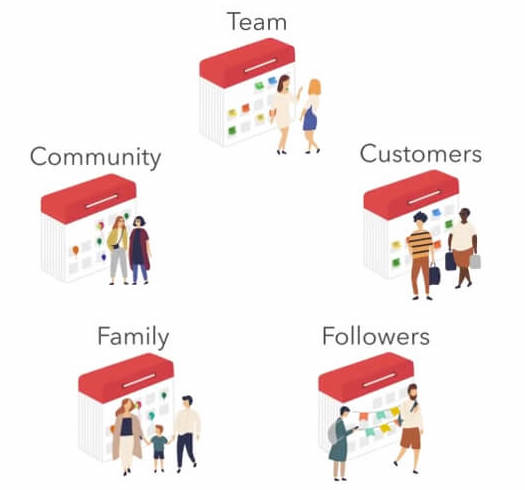 Seamless Synchronization between the Calendars of the World
Imagine never having to manually update your schedule again. With GroupCal, you connect your calendar to other individuals and businesses, and any changes or new events are instantly synchronized across all connected calendars. This means that any updates made by others are automatically reflected in your calendar, ensuring everyone stays on the same page, no matter how complex the schedules may be.
Powerful Permission Management
GroupCal empowers you with advanced permission management, allowing you to control who can view, edit, or add events to the shared calendars. Whether it's a family calendar, a project team, or a group of colleagues, you have the flexibility to grant the right level of access to each member. Admins can manage calendar settings, add or remove members, and ensure that confidential information remains secure.
Unified View of Your Life
Say goodbye to the hassle of managing multiple calendars separately. GroupCal provides a unified view of your schedule by allowing you to access and manage personal calendar accounts, such as Google Calendar, side-by-side with your shared calendars. This comprehensive view ensures you never miss a beat, whether it's a personal commitment or a professional deadline.
Publish your Calendars on Your Website
GroupCal understands the importance of sharing schedules beyond the confines of the app. That's why it empowers you to publish your shared calendars on your website or blog. Whether you're running a business, managing a community, or organizing events, publishing a shared calendar on your website can be a game-changer. Visitors to your site can easily view upcoming events and stay informed about important dates. This feature is particularly useful for organizations that regularly host events, as it eliminates the need to create separate event listings and ensures that your website stays up-to-date effortlessly.
With GroupCal, publishing calendars on your website is a breeze. Simply generate a calendar link and embed it on your website, and the shared calendar's events will automatically appear on your site in real-time. Embrace the power of seamless integration and keep your audience engaged with the latest events and schedules.
Color-Coding for Different Calendars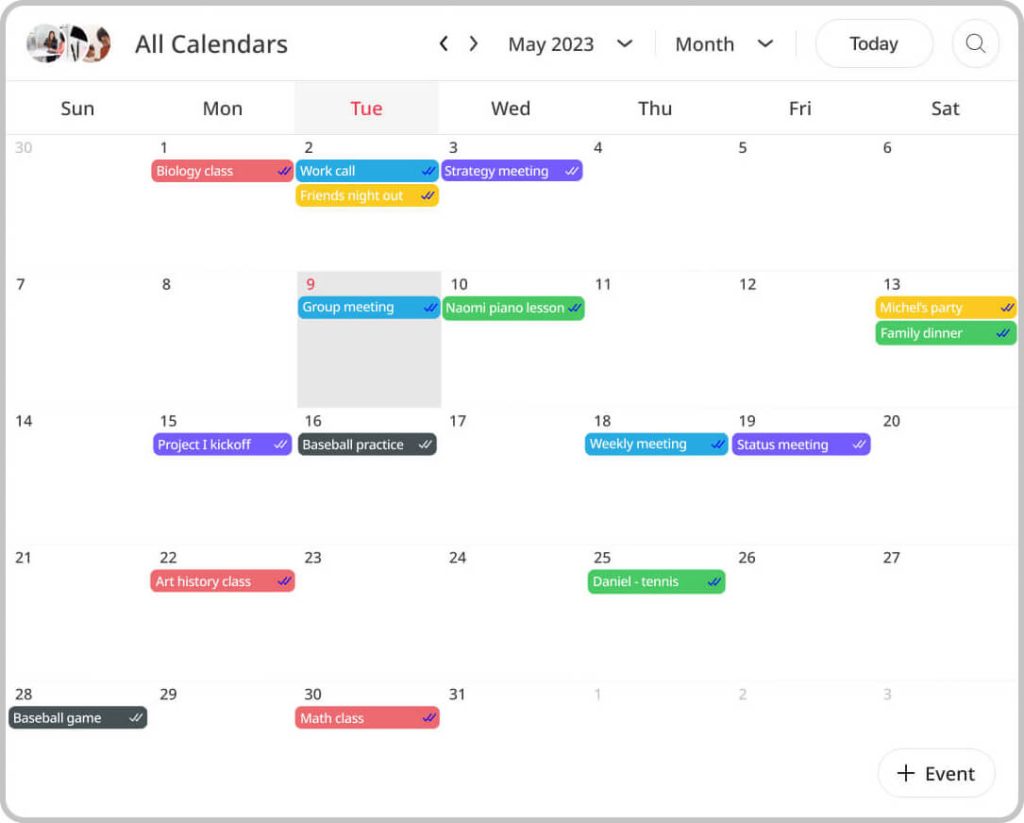 Managing multiple shared calendars can get overwhelming, especially when each calendar corresponds to a different group or topic. GroupCal's intuitive color-coding feature comes to the rescue. With color-coded calendars, you can easily differentiate between various groups and events at a glance. Assign unique colors to different shared calendars, making it effortless to identify the source of each event and prioritize your commitments effectively.
For example, you can assign a distinct color to your family calendar, another color for your work-related events, and yet another for your social gatherings. The result? A visually appealing and organized calendar that streamlines your scheduling and keeps you on top of your game. Say goodbye to confusion and experience the convenience of color-coded calendars with GroupCal.
Assign Colors to Calendar Members
In addition to color-coding calendars, GroupCal offers the ability to assign colors to individual members within shared calendars. This feature is particularly useful for collaborative teams or groups where each member contributes to the calendar. By assigning unique colors to members, you can instantly identify who added or updated an event, making collaboration and accountability a breeze.
For example, in a project team calendar, each team member's events can be displayed in their designated color, allowing you to see at a glance who is responsible for which tasks or meetings. This level of visibility fosters effective teamwork, ensures everyone stays on the same page, and streamlines communication within the group.
Advanced Attendance Mechanism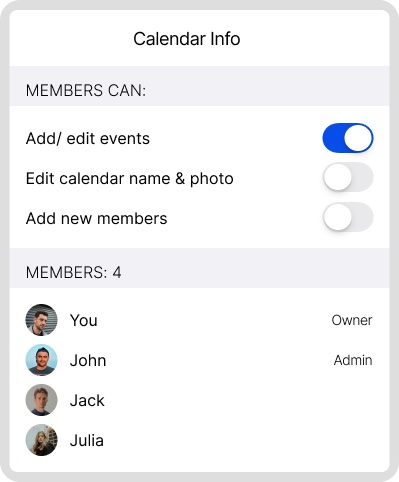 GroupCal's advanced attendance status capabilities revolutionize event coordination with customizable attendance responses, real-time status updates, comprehensive attendance reports, and smart reminders. Event organizers can tailor attendance responses to fit specific event requirements, receive instant notifications of status changes, access valuable insights on attendance patterns, and set up automated reminders for participants. Moreover, GroupCal provides a clear visual representation of attendance status with tick indicators displayed on events. These tick indicators serve as a quick reference, allowing organizers to see the aggregated participation status of all members at a glance. With these powerful tools and visual cues, event organizers can optimize attendance rates, enhance event planning strategies, and create seamless and successful gatherings, whether they are for professional, social, or community purposes. GroupCal empowers organizers to stay organized, keep participants informed, and elevate their event coordination to new levels of efficiency and success.
Real-Time Updates and Notifications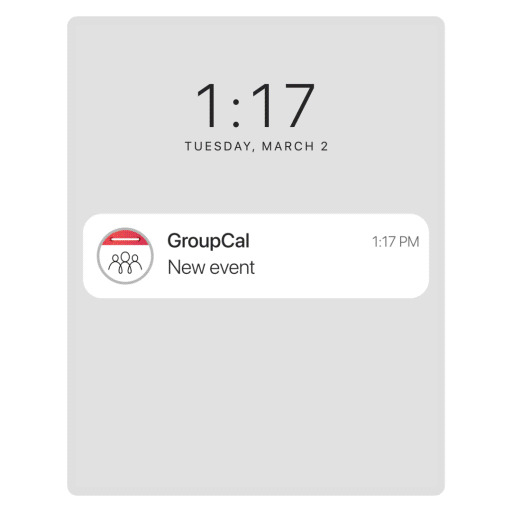 GroupCal keeps you in the loop with real-time updates and notifications. Whenever there's a change or a new event is added to a shared calendar, you and all other members receive instant notifications, ensuring that everyone is informed promptly. This level of communication and collaboration enhances productivity and minimizes scheduling conflicts.
Multiple Plans to Suit Your Needs
GroupCal offers four plans to cater to different user requirements. From the free plan for individuals to the Business+ plan for larger businesses, there's an option that fits your needs and budget. Each plan comes with a set of powerful features, making GroupCal accessible to everyone.
Mobile Apps for iOS and Android
GroupCal understands the importance of mobility in modern life. That's why it offers dedicated mobile apps for both iOS and Android platforms. Whether you're an iPhone enthusiast or an Android aficionado, GroupCal has you covered. Simply download the app from the respective app stores, and you'll have all the power of GroupCal at your fingertips. The mobile apps provide the same robust features as the web version, ensuring that you can manage your shared calendars on the go, no matter where you are.
Desktop and Web Access
In addition to mobile apps, GroupCal provides seamless access through desktops and web browsers. The web version of GroupCal is fully optimized, ensuring a smooth and user-friendly experience, just like the mobile apps. Whether you prefer working from your laptop or accessing your schedule from a shared computer, GroupCal's web version offers all the features you need to stay organized.
Cross-Device Syncing
One of the standout features of GroupCal is its cross-device syncing capability. When you make changes or add events to your shared calendars on one device, the updates are instantly reflected across all connected devices. This real-time syncing ensures that you and your team members, family, or friends are always up-to-date with the latest schedule, irrespective of the device you're using. Say goodbye to the headache of manual updates and enjoy the convenience of seamless synchronization.
Calendar Verification Badge
GroupCal's Verification badge mechanism enhances trust and credibility within the shared calendar community. By allowing users to get their calendars verified, GroupCal ensures that calendars with the badge are authentic and reliable. The Verification badge appears next to the calendar's name, serving as a visual indicator that the calendar's owner has been verified. This feature is particularly valuable for businesses, organizations, or individuals who want to establish their legitimacy and authenticity to their audience. With the Verification badge, users can confidently join and collaborate on shared calendars, knowing that the information provided is from a verified and trustworthy source. GroupCal's Verification badge mechanism fosters a sense of security and confidence among its user base, promoting meaningful interactions and collaboration within the platform.
Conclusion
GroupCal is more than just a shared calendar app; it's a game-changer for collaborative scheduling. With its real-time synchronization, powerful permission management, and unified view of your life, GroupCal makes scheduling effortless and efficient. Whether you're a business looking to streamline team coordination or an individual seeking a better way to manage your family's schedule, GroupCal is the answer. Join us on this exciting journey, and experience the future of scheduling with GroupCal.
To learn more about GroupCal and start using it for yourself or your business, visit GroupCal's website www.groupcal.app. Embrace the power of collaborative scheduling and stay organized like never before with GroupCal!