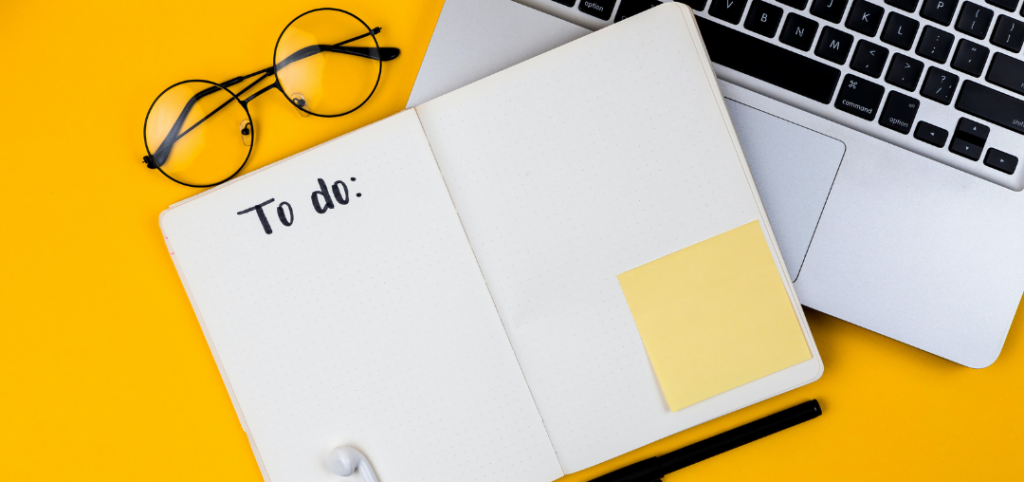 Managing life can be tedious. We are bombarded with all types of notifications and information from emails to text messages, phone calls and other things that pop up and need our attention. It's hard to keep track of what's been done or what needs to get done. 24me is a personal assistant on the go which organizes the clutter. It's one place to manage all calendars, to do lists, notes and personal reminders, and keeps you on top of things. Here's how you can use it to get your life back in order.
Events, tasks and notes all in one place
24me keeps all of your stuff in one place, and eliminates the need to switch between multiple apps to get a sense of your schedule. It holds together all your calendar events from your different calendars, your to-dos, and all of your notes. Tasks with due dates will appear on the calendar at the right time, so that you will have a holistic view of your schedule.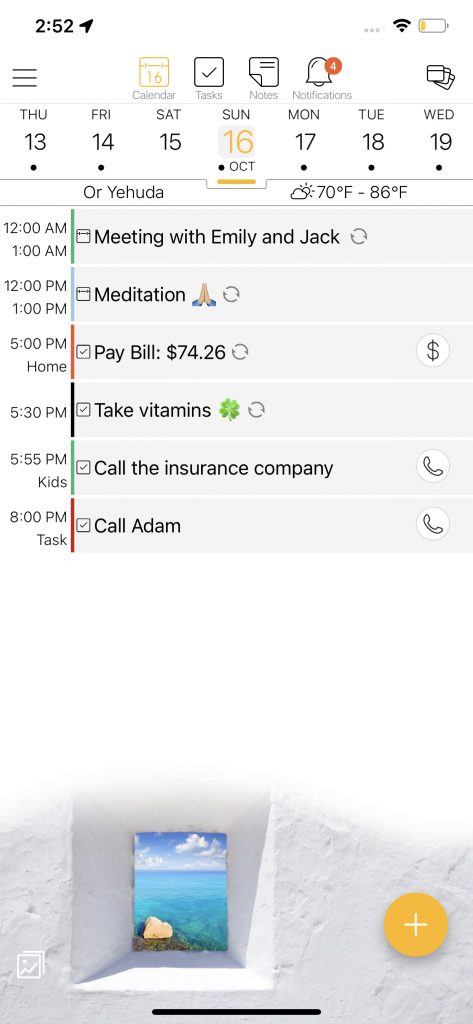 Multiple calendar views allows for seeing your schedule ahead of time
24me is one of the easiest ways to keep track of all the moving parts in your life, from meetings to attend to birthday celebrations. The default view on iPads is 'Week view' and on iPhones it is 'List view'. Sometimes you want to check on things further out in your schedule, so you may want to change your calendar view. 24me has five different calendar views so you can check out what's coming up in the next month, week, 3-Days, day with the option of viewing it as a list. You can also see your schedule as a landscape week view. To return to today's date, tap on the calendar icon on the top bar and it will bring you back to today's date.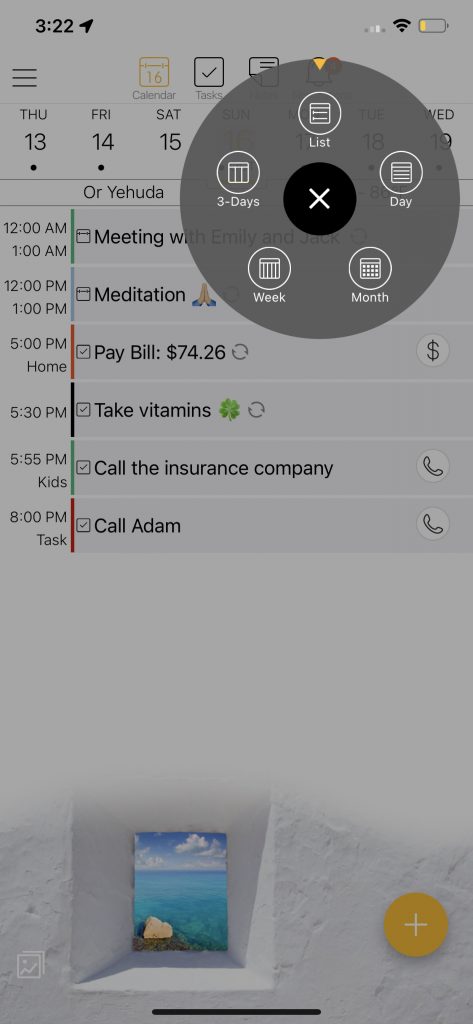 Syncs across all devices
With 24me, you can sync between your mobile phone, tablet, iPad, M1 laptops and even your Apple Watch. This allows access to your events, tasks and notes fro, everywhere, keeping you on top of your schedule anytime everywhere. Agenda for tomorrow / agenda for today
Since 24me acts as an assistant, it helps make sure you will know what's coming up next. That's why one of 24me's favorite features by our users is the 'Daily Agenda'. This is a customizable feature which lets you set the right time to get a special notification the night before and the day of, with a snippet of your schedule – when does your first meeting that day starts, how many meetings and tasks you have for that day.
Share events, tasks and notes with the people around you
There are tasks and assignments you need to collaborate with a team or a group of people. 24me has a special option, specifically for this instance: share tasks with a group of people, like a grocery list shared with your spouse, an assignment shared with your team classes or a shared activity for a group of friends. You can also share notes and of course events. All the data on the task/note will be synced in real time between all participants.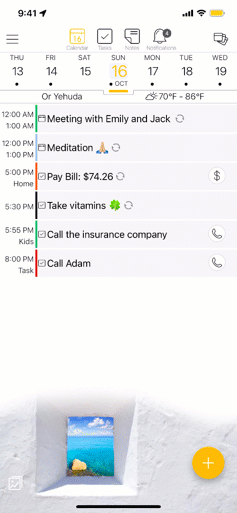 Complete your tasks with automatic completion buttons
24me enables flexibility in scheduling tasks ahead of time. You can prepare a text message to be scheduled, an email that you want to be sent or anything else which is time sensitive. Simply add a call, text or an email task to 24me, insert the text content, define the time of reminder and when the time comes, with the simple tap of a button , the email or text will be sent or the call will be made. Same goes with scheduling reminders for payments, booking hotels or sending gifts for special occasions (this specific feature is only available in the USA).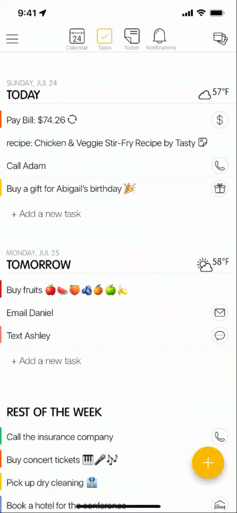 Procrastination fighter – helps manage time well
We all have some procrastination issues we need to work through and sometimes we just need a little "push" to complete things on our lists or finish tedious tasks. With 24me's procrastination fighter, you'll be able to tackle those procrastination issues head-on, and get your life back on track so that you can be comfortable with your time. The procrastination fighter sends you notifications to let you know you have a free slot on your schedule, so you can complete your overdue tasks at that time.
Labels
We all know that having many tasks can be overwhelming. That's why we've added the ability to add labels to tasks. This way you can organize each of the tasks under a specific label. When you need to look for your school related tasks, simply look under the school label.
On the 24me task screen, you can choose to see tasks per time or per label. All tasks will be sorted into different buckets of labels. You can also categorize tasks into multiple labels, for example, 'Buy groceries' can be labeled with: 'household errands', and 'shoppings'. Once you are using the Label mode on the Tasks screen, you will see that task under both those labels. This is a perfect way to organize your to-do lists and tasks.
24me is here to help you get back on track. From staying on top of your schedule to managing your to-dos, you'll have a trusted companion at your side throughout the day. If you haven't already, make sure to download it now! https://bit.ly/3rpUs5F
We would love to get your feedback and hear your thoughts. Which of the features of 24me helps you most? Let us know in the comments below.
?
The 24me team.