Place 24me Widgets On Your Home Screen
iOS 14 is out with redesigned widgets, which offer greater home screen customization. As always, 24me is one of the first apps supporting the new iOS 14 version by Apple, allowing you to enjoy the advancements Apple brings in its latest operating system.
You can download the latest version of 24me on the App Store, supporting widgets for iOS 14. This new version allows you to place 24me widgets anywhere on your home screen, add a new App Library for managing app overload and organization, and be even more efficient with your schedule.
How To Use Widgets On iOS 14 On Your iPhones And iPad
1. Touch and hold an empty area on your screen until your apps jiggle and show minus symbols. Alternatively you can tap and hold on any app icon and then choose the Edit Home Screen option to customize the iPhone home screen.
2. Tap the plus button on the top left corner.
3. You will see a menu showing existing widgets.
4. Tap on the widget you want to add. You can then swipe left/right to choose the widget's size and shape you want.
5. Tap "Add Widget" to select the widget that will be added on your Home screen.
6. To move the widget around the screen or to another screen: long-press it until it starts to jiggle, and then move it to any place you want.
7. If you want to remove a widget: long-press to bring up the 'remove' option.
Create a Widget Stack
With iOS 14 you can stack widgets of the same size, on top of each other. You can create a stack of widgets if you want to save space. Once stacked, you can swipe up or down to switch between the widgets.
To create a stack of widgets on your iPhone or iPad follow the steps below:
1. Add a widget as described in the previous section.
2. Drag and drop a widget (same size) on top of an existing one.
3. To change the position of an app in the stack, or to remove it from the stack:
Long press the stack and select "Edit Stack".
Press the lines of each app to change its position in the stack.
To remove the app from the stack, simply swipe it to the left.
Create a Smart Stack
With iOS 14 you can create a "Smart Stack," which uses on-device intelligence to show which widget should be on top, depending on your location, time, or what you most often look at.
iOS 14 comes with a pre-built Smart Stack made up of a group of selected apps. You can customize the Smart Stack the way you want, and also change the order of widgets. Here is how to create a smart stack on your device:
Long press on your home screen and tap the plus icon.
Scroll down until you see the widget called "Smart Stack".
As with the other widgets, scroll left/right to choose the size you want, and then tap "Add Widget".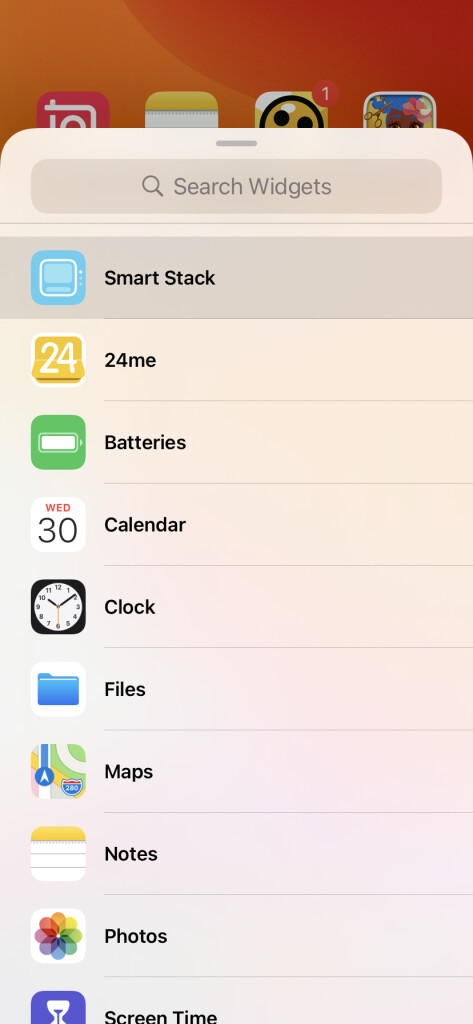 As always, we would be happy to hear your feedback about our new widgets for iOS 14. Let us know in the comments below what you think, and if you are happy using 24me widgets on your home screen.
❤️
The 24me team.